Artist Profile - April Young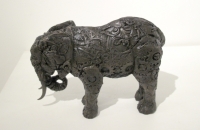 Clockwork Elephant Ed 6 of 25 (bronze resin width 48cm height 28cm depth 16cm) £1200 plus delivery
Click for larger image...
Biography
April Young was born in 1972, in Cumbria, and spent most of her childhood moving around the country and the globe. The list of places she lived in includes locations as diverse as Newcastle-on-Tyne and Cape Town, South Africa. April Young's work is concerned with the expression of life through figurative study. As well as producing a variety of sensitively handled animal studies, her concepts are enriched by literature, folklore and mythology. Examination of the human condition as expressed through animal form, especially in the rituals and art of the ancient world, often leads to work of a zoomorphic nature. In particular, the horse is a regular motif that features in her sculptural works. April has been commissioned to work in a number of materials and to various scales from small works for giftware (mass production) for Border Fine Arts, to life-sized bronze figures as a corporate commission for Morgan Stanley. As well as being held in private collections in the UK, Ireland, Germany, Holland, the United States and New Zealand, her work has gallery representation throughout England, Scotland and Ireland, including at major regional Art Fairs such as AAF London, Art Ireland and Glasgow Art Fair each year. April has participated in many mixed exhibitions and her sculptural work was most recently selected to go on show in a mixed exhibition at the Royal West of England Academy in Bristol (Oct 08-Dec 08).
Artist Statement
SMOKE FIRED HORSES Working with an organic form often leaves the maker with the problem of how best to represent the natural world in a new way, without simply replicating it. The challenge is to condense what is there naturally, to concentrate the eye of the observer selectively, onto appealing or interesting aspects of the subject matter. In the case of a herd of galloping horses, there are matters of form, perspective, colour, movement and life which must all be balanced. Rather than showing the forms as snapshot, freeze-frames, the pieces have been sculpted as a moving animal would appear to the naked eye. Hence, the features, particularly highly mobile parts such as hooves and legs are loosely defined. Matters of perspective have been dealt with playfully by altering the scale from the tiny to the gargantuan! The natural elements played a large part in dealing with questions of colour, movement and life. Earth and water combine as the medium of clay; in this case I have chosen grogged cray to reflect the strength and true grit of the galloping horse. Fire produces the smoke which in the firing wraps around the body of each individual horse and holds them together visually as a group, lending the surfaces light and darkness, as though they are galloping through a forest. The holes in the bodies of the horses give them an aerial aspect as they leap weightlessly.