Artist Profile - Pierre Williams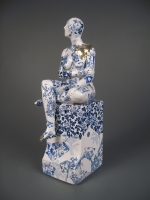 Seated Female Nude on Plynth (original ceramic blue and white) £495 plus delivery
Click for larger image...
Biography
Pierre Williams was born in 1962. He completed his foundation at Hereford College of Art and Design in 1998; where he was awarded the Brian Hatton Award. He then went on to study ceramics at the University of Wales in Cardiff (UWIC), graduating in 2001 and also exhibiting at the New Designers Show in Islington later that year. Pierre then returned to Hereford College of Art and Design as a tutor between 2002 and 2004, exhibiting at the Hereford Contempoary Craft Fair (winning the new exhibitor award in 2003 and the Booker Arts Prize 2004). He then worked as a part time tutor at Hereford College for the Blind between 2005 and 2008, and has continued to exhibit locally during h-Art, and in other rergional galleries. He has been exhibiting with the GreenStage since Christmas 2008, and we represented Pierre at both the Affordable Art Fair in Battersea and Bristol with considerable success.
Artist Statement
PRECIOUS SERIES This series of work came about after a conversation with a fellow artist which centred round deserving to achieve your own success through the things you love doing. We all battle our inner demons each day and as my work is now exploring more personal issues I wanted to explore the idea of learning to appreciate and love the person you are. Part of the reason I now work as artist is to aspire to be better, to do the best I can, instead of doing what, maybe, I'm second best at. After lots of thought and experiments with surface, texture and finish it's manifested itself as a golden being pealing back a layer of ceramic skin. Ceramics in this country is viewed as a poor relation in the art world so it's been the perfect way to reflect this concept and also makes a statement about the material itself. We also have different facets to our personalities with some aspects being more likeable than others, our bright side and our dark side for instance. This has also been expressed through different surface qualities on separate figures.PUGILIST AND THE SWIFT. The series of work entitled the 'Pugilist and the Swift' came about by the summer arrival of the swifts at my studio, which is thier nesting territory. They only ever land for this sole purpose and when the young are ready to fly the nest, for some strange reason, instead of flying out to the sky they come into my sutdio. I take great delight from rescueing and releasing the young swifts, some will sit in my open hand for a while to regain thier strenght and some will fly sraight off. To be the only human to handle this amazing creature fills me with amazement and takes me back to the innocense fo my childhood, where I was discovering the wonders of the natural world. As a child I was always on the lookout for frogs, toads, lizards, slowworms and the like on my adventures. I decided to make some work to reflect these thoughts, but the first figure turned out a little stockier than I had intended and resembled a bit of a scrapper, which I quite liked. This gave rise to the notion that my struggle to be an artist is not just a mental, but also a physical one, where I have to work at other jobs to allow me to pursue my dreams. Working seven days a week, some of which is extremely exhausting and then entering the studio where I am required to be extremely sensitive. I feel the piece of work I produced captured all of these things and will lead on to more work in this vein. The smaller pieces came about due to the cold winter sat next work my wood burner when I was thawing my clay out and found myself wishing for the return of the swifts as this woulkd mean it's summer. ORIGINAL INSPIRATION This main body of work has been inspired by many recent visits to Hereford Cathedral, which I have been rediscovering. The skills of the craftsmen who created this work of art and that are also being matched in the restoration work is something I try to replicate in my own work, all be it on a smaller scale. I can be influenced by one stone in the building, a group of arches or the patterned ceramic floor tiles and this may manifest itself in a three dimensional form or surface decoration. The figures have been developed by also looking back in time to classical sculpture and the work of Rodin as well as the contemporary work of Anthony Gormley. The environments Gormley sets his figures in have been a catalyst for the juxtaposed figure to the architectural form. I like to play with how the human body may interact with different forms in every day poses or performing contemporary functions. The complex surface decoration which may require up to five firings has been developing over the last five years, by looking at contemporary painters, ceramic and textile surface patterns and the work I have carried out with students with learning difficulties. I also tap into the blue and white tin glaze tradition of earthenware ceramics, with my top firing temperature being 1120 degrees. I will use slips, oxides, under glazes, glazes, enamels and lusters to achieve the desired effect. With this type of finish I am trying to recreate the same qualities as the antique collections in museums that I have looked at many times where there is not one particular piece I am drawn to, but the shine, colour and feel of the whole display.