Artist Profile - Anthea Stilwell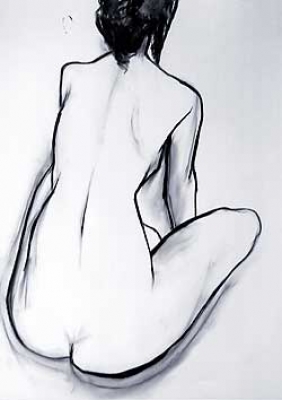 Nude
Medium: Graphite
Measurements:
Year:
Price: SOLD
Click for larger image...
Biography
Anthea trained at the Ruskin College of Art, Oxford, and Robin Child's Art Research Centre for the last twelve years. She taught for 25 years at Harrow School and retired six years ago to the Welsh Marches to concentrate on painting. She is motivated and stirred by this beautiful landscape to attempt to translate it into paint... the soft and hard edges, the shapes and textures, the translucencies and opacities of colour are all a challenge. Exhibitions include The Lennox Gallery, Fulham; The Mill, Faringdon; Harrow School; The Gayton Library, Harrow; The Presteigne annual art exhibition; The Galanthus Gallery, Abergavenny and The Parkfield Gallery, Ross on Wye.
Artist Statement
I love drawing and painting the nude, first from observation and then using the drawings to create larger, more imaginative, expressive and sometimes semi-abstract versions. I use the beautiful and dramatic Herefordshire landscape in the same way; always starting with charcoal, pencil or pen and ink and working up to watercolour, acrylic or oil paint. In these drawings and paintings, I have concentrated on the energy of line.