Artist Profile - John Phillips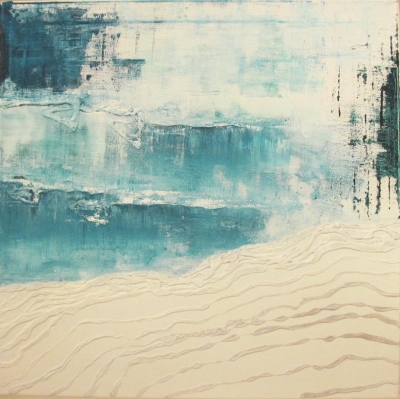 Reflections
Medium: Acrylic & Mixed Media
Measurements: 65 x 65cm
Year:
Price: SOLD
Click for larger image...
Biography
John Phillips is a painter of abstract and representational work, focused mainly on coastal themes. He work in acrylics and oils, including mixed media. The textures and colour palette are sometimes repeated on both abstract and representational work. John's work is influenced by the exploration of long coastal and country walks. The paintings are a response to the raw energy and nature he encounters.
Artist Statement
I have been very lucky to have been
brought up within an art environment. My father was an artist and as a child I
visited many other artists studios and galleries. I enjoyed sketching and
painting outdoors with my father and visiting the many wonderful exhibitions
around Britain and Europe.

I visited St Ives in the sixties when
while some of the more iconic artists from the early part of the 20th centuary
still worked there. I continue to visit Cornwall regularly to this day.
Visiting Henry Moore, Barbara Hepworth, Picasso and Braque's studios were
some of my happiest memories of my childhood.

I studied Graphic design and illustration
at college and pursued a freelance career after leaving. However varied and
exciting this was, while working in London, I did miss the chance to concentrate
on my painting. On a move to the south west I decided to concentrate more on
developing my painting skills.I exhibited in Exeter and held work in
galleries around the south west. St Ives, Penzance, Totnes and Exeter, also
briefly running a gallery on the quay in Exeter. The
paintings have evolved in two different directions. The abstract approach has
helped me explore the spaces and textures that speak to me using the
experiences from the coast and countryside I now reside in. Secondly I keep
revisiting the representational work, reflecting my love of drawing and
interpreting the forms and colours in a more direct approach.