Artist Profile - Frans Wesselman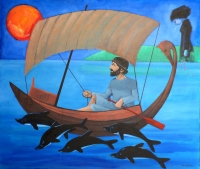 Lover leaving (60 x 70 cm, oil on panel) £1950 plus delivery
Click for larger image...
Biography
My interest in art started with the pictures, often cut from magazines, that my mother pinned up around the house. Growing up in The Hague, the etchings of Rembrandt and The Hague School were around and made me sneak into the etching room as soon as I got to Art College (also in the Netherlands). After qualifying as an Art teacher and my military service, I left for Ireland and eventually ended up in Britain, where I soon joined the Royal Society of Painter-Print makers. As my artistic interests have become more varied, I am now also a member of the British Society of Master Glass Painters.
Artist Statement
My work reflects my interest in the human form and human relationships. Some pieces are based on poems and literature; some are directly from observation and imagination.The initial ideas are worked out in scribbles in my sketch books. Once I have a basic composition I start gathering drawings of the various parts, landscape maybe or sketches of buildings or animals. I draw from life, using a model, but also draw people in the street or use mirrors to work out positions and details of hands for instance. For etchings and stained glass I make quite precise working drawings, for painting much less so. For my colour prints I first make the etched plate, print and off-set this onto ply, which I then cut up like a jig saw puzzle to print the colour from. In the final print the colour is printed first, the etching over the top of it.

In 2009 I was commissioned to make designs for the Cultural Olympics project that became "Godiva Awakes", based in Coventry. This took place over seven days at the beginning of August 2012 when a six meter tall puppet of Godiva was cycled from Coventry to Waltham Forest. I was
also commissioned to design and make eight stained glass windows for the static part of it.