Artist Profile - Anya Keeley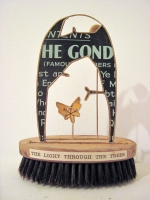 Light Throughe the Trees (mixed media sculpture height 21cm) Sold
Click for larger image...
Biography
I graduated in 2000 from Hereford College of Art with a BA(hons) in Design Crafts. Since graduating I have done numerous contemporary craft fairs, including the Country Living Spring & Christmas Fairs and Hereford Contemporary Craft Fair. I regularly participate in local craft markets and exhibit in shops and galleries, locally and nationally.
Artist Statement
From a very young age, I have
compulsively collected found objects and ephemera, squirreling them away into
jars and boxes. Enticed by the beauty of patina, that only comes with age and
wear, I assemble these pieces into whimsical works of art.

Inspiration comes from
fantastical fairy tales, nursery rhymes and the curiousness of the natural
world. Often the creatures I make are pure figments of my imagination. I try to
envisage the oddities that many Victorian explorers could have encountered on
their voyages to different lands. These whimsies are then caged, named and
categorized. A museum of my own fantasy.

My work uses many processes.
Wire-working is a common factor in the majority of my pieces. I have a tendency
to use iron or brass wire, each has their own nuances, which command when and
how I utilize them. The processes I use are often dictated by the materials I
am using. I bend, solder, hammer, drill then maybe solder a bit more.

As for designing, I collect
images, from books and magazines, which I collage into reference books. I
rarely put designs down on paper. Normally ideas formulate as I drift asleep or
wake. Quite often I will have several pieces at different stages of production
on the go, flitting back and forth until the right object finishes the piece.