Artist Profile - Jo Lucas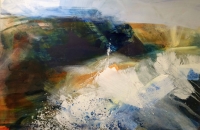 Radient (mixed media unframed 150 x 100cm, 59 x 39inch ) £3500 Plus delivery
Click for larger image...
Biography
Jo Lucas is a painter of land and seascapes. After graduating in 1991 from Reading University she established her career in London where she lived for 15 years. Awards from Arts Council England and Pilkington enabled her to work and travel to remote parts of Alaska and Patagonia, India and Kazakstan. Closer to home, the land and seas of Northern Britain and Cornwall source her imagery. 'Her paintings have been selected for exhibition by RCA, ING Discerning Eye and Affordable Art Fair...'They continue to attract individual and corporate clients here and abroad. Jo is currently based in the south west.
Artist Statement
I make paintings of places I know in Britain and other parts of the world. My landscape subject matter is loosely defined, to be interpreted by you the viewer in any chosen way. Specific geographical locations converge with less tangible regions of paint marks to draw attention to painting's process. Using a variety of paint media, I apply many layers with prominent brushstrokes. In its abstraction I aim for my work to have the depth and resonance of a certain place and time of meaning.