Artist Profile - Caroline Hands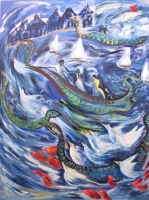 The Dragon Boats (oil on canvas unframed 115 x 150cm)
Click for larger image...
Biography
Caroline is a full time visual artist who works in painting, drawing, textile, batiks, feltmaking, copper and enamel, mosaic, 3D, photography, book illustration and many other mediums.She has recently been working a lot in China and recently had a solo exhibition in XYZ Gallery Beiging. She will be presenting a round up of her experiences in a presentation at this years Hay Literary Festival.
Artist Statement
Caroline has always travelled – her camera catching a wealth of images from all over the World which now forms a large archive of visual material. She has been visiting China since 2006. The generosity and kindness of her many Chinese friends and acquaintances has changed her life and fed her work enormously.



From the age of dot she painted, drew and made shelters and sculptures out of products from the natural environment.She went to Art College in London in the 1960s. After a start in a fashion course, making copper foil wigs amongst other things, she pursued a mixed media course of her own – theatre design, photography, sculpture, general visual research. This was before mixed media courses were common place. She completed a fine art painting degree course later. She also worked a great deal in community arts in London and the West Midlands (see 'Out There' for further details).



As a full time artist, Caroline's work continues to develop and expand. Her work explores the diversity and richness of different cultures. Work/paintings of movement, humour and dance bridge between East and West and changing times.



"Like the Painted Energy of Nature"

Jessica Harness Downes,

Freelance art-historian who has lectured, talked and taught for many years, including for the Victoria and Albert Museum, the National Gallery London, and continuing education courses for London University and other centre's



Since as long as I can remember I've made things with whatever materials were available, natural or man-made. At 11 my parents entered me for a competition at Harrods in London judged by Augustus John. 1000's of entries. I was lucky to come 5th. Looking at the picture of Noah's Ark now, I am interested by its balance and space, and see a knowledge that I hope to have still retained. Later they sent my photos in for a photographic competition, I won but was annoyed as I had not known of the entry and had given no permission to use my work and competitiveness was not naturally part of my nature. Then there was China. It had always been somewhere in my consciousness. Having read much Chinese poetry and literature and loved their painting and artefacts. I knew China was special for me. I met two women separately Xirang (a wonderful writer of Good Women in China and Sky Burial among other books), the writer and Annie who now works with flower remedies. "Come to China!" they said. I realised it was time to go. So on my ever growing overdraft I bought a ticket to Shanghai and later on to Chengdu to see Annie. That was definitely the time to go as China was changing so fast. Everything started opening. I experienced such intelligence, warmth and generosity from people. "You're an artist we'll look after you," and they did and do. With that backing the work flowed.The essence of a place and its people, that's what I'd like to get. Though the road takes you everywhere it will open to that space in between, where the magic lies. There are choices to be made and I do hope they (the paintings) can nourish and uplift rather than constantly pointing out the dark and the negative. Some people may call it illustrative but I don't see it that way. Some may call it unfinished but neither of these are correct in my point of view. What I am doing, that space left, a generosity for the viewer to wonder and find the depth of their own creativity. The other, the depth, the stroke and the love.That the pictures speak for themselves and give out a warmth, passion and gentleness and intelligence!That for me is the alchemy, the refined clarity out of the dark, the pure jewels. Though of course it varies!All I ask is that I am given the great honour that people will rest in the work a while and be taken in deeper and deeper. My work is my prayer.