Artist Profile - Guy Butcher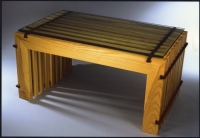 Mitre Coffee Table
Click for larger image...
Biography
Born 1964. After being discouraged at school from taking a creative career route, an eclectic mix of jobs led to a year of travelling and working in 1993. Working with travelling cabinet makers for a few months in Australia sowed the seeds of an idea, and on returning home Guy set up a small workshop making simple furniture with the initial intention being to learn the skills and use them as a means to support further travelling. Fourteen years on, Guy now has a growing family and is based on a nearby farm where he creates furniture to commission.
Artist Statement
I have a broad taste in furniture and art, and consequently I am happy making furniture in many styles. I am drawn towards many of the ideas of the arts and crafts makers, in particular, incorporating the construction methods into the design, and using the beauty of the wood to its best effect. I work predominately in native hardwoods, much of which is sourced locally. I also enjoy working with less conventionally materials in conjunction with timber, and recently collaborating with design businesses to develop small batch production projects.