Artist Profile - Lois Wakeman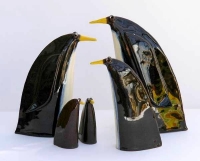 Penguins (ceramics, sizes vary - smallest 4cm) prices from £5 plus p+p
Click for larger image...
Biography
I have a purpose-built pottery in the garden, with kiln, wheel, slab-roller and spray booth etc. This was built by my husband, and one of the best presents I ever had! It also has a wonderful view in case I am lacking in inspiration. Although I first tried pottery evening classes in my late teens, it wasn't until about 1995 that I took it up again. After several years of learning and developing my skills, I was asked to put some penguins in a local gallery, and have been selling in a few outlets ever since. The income doesn't keep me, but has paid for all the materials and equipment with some to spare.
Artist Statement
Devon has a long tradition of slipware pottery, especially on the north coast. Animal figures (modelled or press-moulded) are more a Staffordshire tradition, but I have taken elements of the two and come up with my own very individual style of handbuilt figures. Made from rolled slabs of red or white clay with modelled additions for heads, tails, beaks, eyes and noses etc., they are decorated with clay slips, oxides and underglaze colours. I try to find the essential character of each creature, rather than making a lifelike representation.