Artist Profile - Alison Macgregor Grimley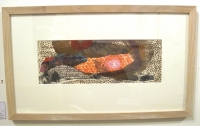 Drifting 1 (mixed media framed 54 x 32cm) £180 plus delivery
Click for larger image...
Biography
Alison Magregor Grimley is an abstract artist who's work is primarily about northern light and colour. She trained at Fine Art at Kent Institute of Art & Design and won the Daler-Rowney Painting Prize in her graduation year. She is a member of Abstract Edge who she exhibits with regularly.
Artist Statement
My work has its roots in landscape, and is predominantly concerned with northern light and colour. Autumn, winter and spring are the times of year I like best because of the white light, full of clarity and sharp contrasts against the deep violets of distant hills – especially the hills of the Welsh Marches with their ancient geological history.As a colourist, I like to build up layers of thin washes before adding deeper shades. A white ground of gesso or paper enables the light to show, creating an impression of "looking through". The aim is to paint something intangible – perhaps the feeling of finding the source of light as it comes from behind the clouds or through the trees. It is the landscape of the imagination. Texture is also a strong component in my work. I take an experimental approach, using hand-printed marks as collages, to be incorporated in the painting. The forms, through abstract, are always biomorphic in origin.