Artist Profile - Rae Harrison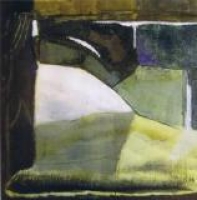 Untitled I (acrylic on canvas board, 50 x 50cm) £80
Click for larger image...
Biography
Rae is an abstract artist based in North Herefordshire. She took early retirement from Birmingham University in 1992 and has since studied Fine Art at Ludlow, and Hereford College of Art. She was a founding member of Abstract Edge an exciting group of professional artists who are based on the Herefordshire / Shropshire border. Stored memories of abstract images or sections of previous pieces often form the basis of her work, from which she experiments with line, texture and colour. The results are images which have strong forms with earthy natural shades and colour that draw you in.
Artist Statement
Before taking early retirement in 1992, I worked as a Sociologist/Lecturer then as a counsellor with overseas students at Birmingham University. I then studied Fine Art and Art History at Ludlow College, afterwards gaining a Higher National Certificate at Hereford College of Art.

For many years I have been interested in abstract art and my approach has involved moving towards different kinds and degrees of abstraction. The first results were mostly semi-abstract, but I am now enjoying the challenge of creating completely abstract paintings.

It is hard to describe how this works. Sometimes it begins with a stored memory of abstract images, then experimenting with line, shape, colour and texture. Or I may use one of more sections or previous work, enlarged or cropped perhaps to provide an interesting composition- a basic structure.

I have a longstanding affection for the work of Ben Nicholson and Morandi. More recently I have been drawn to de Stael, Lanyon and Soulages, admiring the different ways in which they struggle with the problems of structure and composition in abstract painting. Local artist Carolyn Blake, as well as fellow artists in Abstract Edge have also provided inspiration and support.

In the paintings for this exhibition I have played with ideas of line, shape, tone and texture rather than colour, though in some work muted blues, reds and greens have crept in.