Artist Profile - Abigail Humphries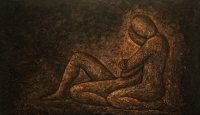 Absorbed (sand and mixed media on canvas 170 x 100cm framed) £1,995.00 plus delivery
Click for larger image...
Biography
Abigail is a professional Artist, Photographer & Designer based in Ludlow, Shropshire. She studied Photography, Art History & Media Studies at Ludlow College and later went on to study Foundation Art and then a B.A Honours degree in Photography at Derby University.Where she was fortunate to have many of the biggest names in British contemporary photography as her tutors & mentors. Abigail graduated with a 1st Class Honours degree.
Artist Statement
I developed my technique of painting with sand over 9 years
ago. I have found this medium to be a very inspiring and creative
process.

Working with the sand and building up layers allows the image to quietly
grow. The paintings go through a constant process of metamorphosis
as the work is moulded and eventually dries. The process is not
spontaneous due to the drying times and therefore it maybe that the final
work results in a combination of emotions due to how I 'the artist' felt
during the project. In different lighting situations or at different
times of the day you may find that the rough textures and
unique sculptural effects can alter the way that we see the figures, in
doing so the emotions that we once had about the painting can evolve into
something quite different.

When I produce my 'Sand People' paintings the aim is to give the viewer an
opening line from a story and hope that they can fill in the rest.

The subject matter of my paintings is the very basic human form, the
intention that the psychological state is captured and expressed in the
physical. Our bodies are so expressive, able to communicate the
tiniest nuance of emotion.

The number of figures in each painting varies but each individual image
has been produced to appeal and connect with each of us in one way or
another.