Artist Profile - Natalie Jones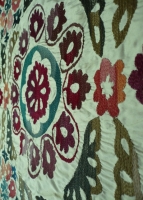 Geo I (framed) £695 plus delivery
Click for larger image...
Biography
Born in Hereford, Natalie grew up in Malvern, later moving to London to study Fashion and Embroidery at London College of Fashion and subsequently, Central St Martins where she gained a degree in Fashion and Print. Since then she has worked as a freelance designer of both fashion and interior fabrics. Clients include: Mulberry, Orla Kiely, Manuel Canovas Paris and Jane Churchill. In 2011 she moved back to Malvern and is currently working from her home studio in Leigh Sinton.
Artist Statement
Inspiration.



My
morning begins with a ritual walk up the farm track [coffee in hand] through an
ever changing display of foliage and wild life set around an idyllic pond.

i always return to my desk with a
head full of beautiful colour combinations , patterns and texture. mix this
with my love of the geometric and this just about sums up my style. Reference
books on ancient carpet motifs to 1950's modernist designs are stacked high in
my work space; also providing an unlimited wealth of textile history from which
to learn and draw on.



Technique and execution.



The design is drawn and re drawn
and re drawn again.... pencil on paper until I am happy with it.. this includes
being confident about which threads will work best on which fabric .. Sewn in
which direction to make the most of the particular piece. Then, again with a
pencil, i transfer the design onto the fabric with the use of a light box.



I work on a single needle basic
industrial singer sewing machine.. with the 'foot' removed this enables a
'freestyle' technique. ie the needle is going up and down and i am moving the
fabric [held taught in an embroidery hoop] around underneath it. There is no
computerisation involved. The top thread and bobbin thread is constantly
changed by hand and the embroidery hoop moved around the piece until the piece
is complete.This process is incredibly time consuming but there is nothing more
satisfying than seeing the build up of colour and texture.



If the pattern requires a fine and
accurate finish i will use cotton and silk threads ... but i have gained a
reputation for mixing in thick upholstery thread, giving a boldness and depth
to a piece that may otherwise have appeared quite flat.



Although i have made a career as
an interior fabric designer, it was becoming near impossible to ignore the
requests for my designs to be framed and displayed as works in their own right.
People seem excited by this alternative medium.