Artist Profile - Caro Burberry MRBS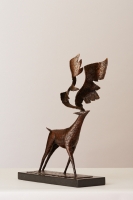 Miraculous Stag (bronze ed. of 9) £5950 plus delivery
Click for larger image...
Biography
Caro Burberry was born in Aylesbury in the United Kingdom. She grew up surrounded by the fields and woodlands of rural Buckinghamshire that provided her with a deep and enduring connection to nature. It is this sense of ethereal beauty and majesty that has become the hallmark of her work. Caro, a lifelong artist with a strong background in printmaking and drawing, received a classical training at The Frink School of Figurative Sculpture. While studying she was awarded a studentship bursary by The Elmley Foundation as well as a commission for the bronze 'Emerging Woman' for St. Michael's Hospice in Herefordshire. Always pushing the boundaries of her knowledge, Caro discovered her love for creating sculpture in bronze and cast iron while working collaboratively with fine art foundries and museums in the UK and USA. Here she explored innovative moulding and casting techniques and developed her trademark velvety black patina for her cast iron sculptures. Notable commissions in cast iron include 'Worship' for Ironbridge Open Air Museum of Steel Sculpture and 'Indiana Visionary' for Sculpture Trails Outdoor Museum, Indiana, USA. Caro regularly undertakes private commissions in bronze. Now living high in the Malvern Hills, Caro creates her art at her Worcestershire studio and in the USA, holding an annual Open Studio exhibition to showcase the year's work. Caro was elected a Member of the Royal British Society of Sculptors in March 2012.
Artist Statement
My sculpture is fundamentally about life. I am inspired by nature, belief and belonging and a sense of the ethereal in our natural world. Being constantly curious about life, I feel like a scout adventuring beyond the far reaches known territory, returning to communicate my discoveries and experiences through the language of form and light, movement and texture. These explorations, translated into sketches, large dynamic charcoal drawings or colourful prints, are often finished works in themselves. The ultimate aim though is always to bring them fully into form as a sculpture cast in iron or bronze. Once committed to 3 dimensions I like the structure and texture of my chosen primary material to be evident in the final piece, whether it starts its life in clay, plaster, polystyrene or other materials I may choose. Although I employ a diversity of materials in the making of my sculpture, my focus and methodology is always the same: to strip away all unnecessary diversions and refine the form to fully reveal its essence or 'soul'. Whether modelling with nuggets of clay to capture light and shadow and the history of a sculpture's creation, or carving detail directly into a sand mould before casting in iron, I always aim for rhythm, harmony and a timeless quality in the final piece.