Artist Profile - Sheona Goodyear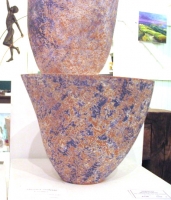 Handcrafted Ceramic Pot 5 (clay 22 x 19 x 22cm) £75 plus delivery
Click for larger image...
Biography
Traditional hand built, frost resistant garden pots, which are inspired by natural forms. Each pot is made with slabs of clay or by pinching and coiling the desired shape. The form is refinedand the surface enhanced with colour slips before being polished smooth like a water worn stone.
Artist Statement
Earth, water, air and fire combine to create each timeless piece.