Artist Profile - Julienne Braham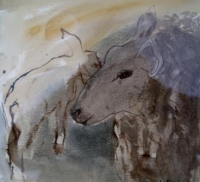 Ewe with Lamb (ink & watercolour ) Sold
Click for larger image...
Biography
Julienne studied fine Art at Reading University. After graduating she taught for 20 years running an Art department in a School in Harrow. In 2007 she gave up teaching to become a full time artist. She now lives and works in Radnorshire.She cites her main influences as spirituality and contemplation of the natural world and countryside of Radnorshire.
Artist Statement
My paintings are essentially celebratory, an expression of empathy with the subject, a distillation of visual impression and inner feeling. Paradoxically while I aim for immediacy of expression, it can take numerous attempts, re-workings and revisions before I achieve it. Each piece of work is an adventure – though I have an idea of the possible outcome, there are no rules or formulas in the making process, so the resulting image can be totally different from the conception.



Drawing is central to my life as an artist. Perhaps my happiest moments are when I am drawing outdoors, trying to capture a certain light, clouds in a particular formation, or even a bird, animal or person that has by chance appeared in my field of vision. Then I feel at one with nature.