Artist Profile - Jane Tudge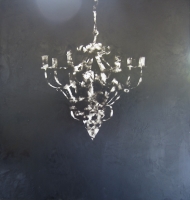 Chanderlier (Beeswax , pigment on canvas, 73 x 78cm ) £950
Click for larger image...
Biography
Jane Tudge graduated in 2006 having finally got to art college as a mature student receiving a first from Hereford College of Arts. Her work is featured in national, international private collections and the Women's Library. She has had a number of exhibitions since graduating and has been selected for a great deal of art prizes and openings.
Artist Statement
My principal interest is in memory, exploring my own and the blips therein and the mechanics of memory. I am also very interested in how little the viewer needs in order to read an image.