Artist Profile - Emily Cameron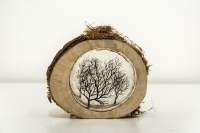 Log 3 (tree stump, resin and perspex) SOLD
Click for larger image...
Biography
I am an Interdisciplinary Artist, focusing on sculpture, painting, drawing and photography. In 2015, I graduated with a Fine Art degree from Cardiff School of Art and Design. I have exhibited my work in South Wales, Herefordshire and am currently working on various art pieces for my collection of work and have sold many pieces to private collectors.
Artist Statement
My work takes the form of three dimensional
sculptures using tree stumps, resin and Perspex. By layering transparent
materials, I use processes familiar to me to create something unfamiliar
attempting to replicate the oppressive feeling within the forest. The outcomes
are compact and intimate, residing in small structures, so as a viewer you are
dominant and looking into a small world.
Natural landscapes and woodlands are personal
to me because of where I was brought up. In Herefordshire you are never far
from a landscape made for a painting. Having spent the majority of my life
surrounded by these beautiful sceneries I have become inspired to produce art
that reflects my home county. I want to celebrate the beauty of nature.
I like to work quite meticulously and create
detailed intimate pieces. Working with both tree logs and resin can be
unpredictable, as the logs can crack if not seasoned and have unique markings
that appear randomly over time. When pouring resin it is irregular, the liquid
will never be the same consistency which effects how clear the end result will
be. Sometimes the resin will harden blurry and cloudy. I find the
unpredictability makes each piece individual and unique.
Using multiple layers I aim to create a level
of depth and a sense of confusion with the intention that the trees become
distant and eerie. The more layers of trees, the more lost the piece becomes.
The trees I paint are detailed and compact which reflect my memories,
documentation and imagination.