Artist Profile - David Shears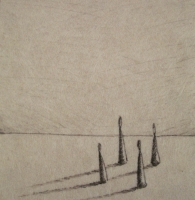 The Meet ( ink on fibre 12 x 12 cm) £25 plus delivery
Click for larger image...
Biography
David Shears lives and works in Manchester where he shares a studio with his wife in the Manchester Craft & Design Centre in the heart of the creative northern quarter of the city centre.
Artist Statement
His works are inspired by events and happenings in his life and those he shares them with. He tries to visually translate these small captured moment and thoughts into these beautiful simplified ink drawings.

Each artwork explores spaces and landscapes void of the familiar and the use of humour and quirkiness allows a connection with the subjects, actions and events.David hand draws each artwork using an ink fibre technique he has adopted after being inspired by his basic sketches and ideas.