Artist Profile - Peter Horrocks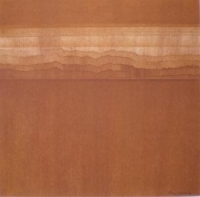 Clearwell Study No.6 (earth pigment on board, 32 x 32 cm) £285 plus p
Click for larger image...
Biography
Peter lives and works in Kington. He studied for his Art Foundation at Leicester College of Art. He then read Fine Art at Chelsea School of Art and gained a certificate in Art Teaching at London University Institute of Education. Peter then started a career teaching first at Brittons School in Essex and then as Head of Art and Design, Lady Hawkins' School, Kington.
Artist Statement
My work is characterised by a concern for abstraction, carefully constructed structures and a sensual handling of forms. Initial images are often drawn from landscape sources, but a variety of other concerns have influenced my work. These include natural forms, stones and rock formations and themes such as 'Freedoms and Constraints' and 'Traces'. I like to work on a series of images at the same time and enjoy the way the works interact with each other - one work teaches me about the next. I usually work on a square format and the scale can be from as small as 150mm to up to1metre. Some works are presented in a triptych format where the interaction between the three pieces is a significant part of the work.



During the past few years I have been developing my use of drawing media in order to explore more fully the expressive qualities of mark making in my work. Not only do I use conventional graphite pencils, but also graphite powder, pure earth pigments and a variety of mark making tools, some to incise the paper or board to produce grooves into which pigment is rubbed, or blocks of graphite rubbed over to reveal a negative line.



Works entitled 'Landmarks' often use natural earth pigments from the place which inspired the work, as in the 2004/5 Tuscan series. I have also sourced a range of ochres from the Clearwell Caves in the Forest of Dean and they have inspired a series of works over the past few years. The series, inspired by my visit to Uluru, (Ayre's Rock), respects the sacred site and Australian pigments were purchased from Sydney. I have also started using other additives to give a more textured feel to the soft board on which I work. Recent experimentation working on canvas develops this area of my work further.



Works on the theme of 'Traces' explores marks left behind in nature and their possible meaning. I am always more interested in small fragments of the landscape rather than the bigger picture.



Drawing for me is an act of discovery. The works themselves are marks I leave behind, and in that sense, are traces where I have been in the creative process.