Artist Profile - Rachel Ricketts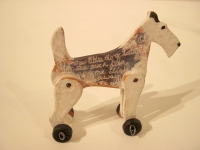 Hey Diddle Diddle (teracotta 16 x 16 x 8cm) £52 plus delivery
Click for larger image...
Biography
Rachel Ricketts Artist Animal Sculptor Mid and South West Wales Fountain Fine Art Llandeilo Rachel grew up in Birmingham and attended Bourneville School of Art, studying design and then a foundation course in fine art before going on to art school in Norwich. Having to choose between painting and sculpture for her degree, Rachel chose the former as the more challenging subject for her. Though this did not prevent her from producing sculpture as well. After graduating in 1980 she stayed on in Norfolk until moving to London. Whilst there, another interest developed in the conservation of paintings and sculpture which led to further study and qualifications in the subject. Rachel then spent a period in the conservation department of the Royal Pavilion, Brighton, until being invited to join leading specialists on a wall paintings restoration project. This proved so captivating that a month in the country soon became seven years. By 1995, however, it was time to return to the studio exclusively. Her work is predominantly sculpture, cast in small editions in bronze, resin/bronze and other media, or ceramic one-offs, strongly inspired by animals - an earthly contrast to the rarefied atmosphere of church paintings. Rachel exhibits regularly in England and Wales at selected galleries. Her work is held in collections here and overseas including European countries, the U.S.A., Canada and southern Africa.
Artist Statement
CERAMIC HORSES.



Horses are treated differently to my other animal sculptures for various reasons, but mainly because l feel they lend themselves to stylization. They can't help making a beautiful shape in any physical attitude and, strangely, because they've always seemed to me to possess an other-worldly quality, difficult to pin down.



So horses present the ideal form to make a kind of three dimensional palimpsest, which has the same appeal and fascination for me as an ancient building with a long history of wall paintings, all in layers one over the other. In these situations time itself is the best artist, as it pushes off a layer of limewash here and an area of plaster there, bringing schemes painted perhaps several hundred years apart, together in the present.



Fired clay gives a very similar surface to work on as fine plaster, and l use limewash and pigments, more than other media, to decorate the horses. Some with motifs directly plagiarized from old wall paintings, some from modern sources or just made up. Text also forms part or all of some designs, though usually multi-layered and eroded to the point of being barely legible (the palimpsest idea) like a message or a song in a dream that you so nearly remember on waking, but the present comes in and overrides it.



Each ceramic horse is made as a unique individual so they take a long time, so please accept my apologies if you are patiently waiting.