Artist Profile - Neil Alcock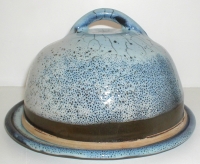 Butter Dish, £25 plus p+p
Click for larger image...
Biography
Neil is based on the outskirts of Cheltenham. He trained with Winchcombe Pottery. Many of the glazes he uses are Japenese in origin.
Artist Statement
All of Neils Pottery is oven and diswasher proof. It is available in many different pieces and commisions are also welcome.