Artist Profile - Ciara Lewis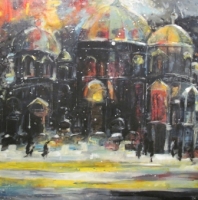 Berlinadome (mixed media 100cm x 100cm unframed) £1500 plus delivery
Click for larger image...
Biography
Ciara was born and educated in Dublin, Ireland. She studied art and design at the College of Marketing and Design Dublin before moving to do Textile Printing in West Yorkshire. She moved to London to become a commercial printer before settling in Shropshire in 1992. She is a member of Abstract Edge, an established group of abstract artists a number of whom we have exhibited at the GreenStage. Ciara's first solo exhibition was in Dublin in 1984, since then she has exhibited whereever she has lived; extensively in Herefordshire and Shropshire since 1992. More recently we represented her at the March Collection of the Affordable Art Fair in Battersea Her work ranges from expressionistic realism through to the purely abstract, using strong surface pattern and texture to capture her environment. The work conveys a sense of calm, the use of strong colours subtly adding an element of tension and structure.
Artist Statement
Although formally trained as a printer and working with textiles for many years, more recently I have concentrated on painting and find this the most rewarding medium for me creatively. A large part of my work is abstract, but if pushed, I would describe myself as a landscape painter as this is often the starting point and inspiration for my work. I am interested in buried structures, archeological remains, foundations of old buildings and hidden or half forgotten memories. Recently I have been experimenting with printing images onto canvas which will form the "bones" of work which can then be surface painted so that a skeletal "x-ray" trace shows through the paint layers, exposing the orginal memory of the piece. My most recent work is concerned with urban landscapes and I have been developing the themes of urban re-generation, change, upheaval and decay using photographic screen printing techniques, as part of my ongoing AA2A artists' residency in Hereford Art College. I have been motivated artistically by rapidly changing cities such as Cardiff and Marrakech, both places which I have visited this winter and the colours of both cold sea swept South Wales and damp sun bleached Essaouira in southern Morocco have seeped into my paintings. I enjoy playing with contrasts and am interested with how people in different cultures cope with the demands of a changing architecture with all it's subsequent chaos on their daily lives. My work tends to evolve organically, often unbidden by me, I am driven to lay down colours or forms that I have not planned to do. The paintings seem to "make themselves" sometimes, in defiance of what I had intended for them. Often the strangest memories or fragments of memories surface and need to be drawn onto the canvas, acting as a sort of diary of my life. I allow these untamed images to emerge because they usually add definition and meaning to the piece I'm working on.