Artist Profile - David Haswell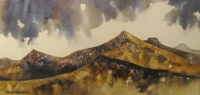 The Beacons Panarama (textured watercolour on watercolour paper framed 92 x 58) £630 plus delivery
Click for larger image...
Biography
Self taught; David's style has been largely influenced by his interest in the work of three Welsh painters: Kyffin Williams, John Blockley and John Knapp-Fisher. All three included in their work simple farming structures, dramatic skies and a limited colour palette.
Artist Statement
The Black Mountains,
the source of David 's inspiration, offer an excellent blend of buildings and
landscape - old farms, chapels, valleys, ridge walks etc operating at the small
scale, within the larger setting of the Brecon Beacons which bring waterfalls,
the canal and some significant mountain peaks. The intention is to create
highly textured images of the Welsh landscape presented with contrast and
bordering on the semi-abstract. The effect is achieved through a combination of
textural work in acrylics, applied with a palette knife and overlays of deeply
saturated pure watercolours from Italy.