Artist Profile - Maria Morgan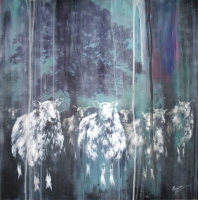 The Flock (acrylic 102 x 102cm unframed) £700 plus delivery
Click for larger image...
Biography
Maria graduated from Birmingham School of Jewellery with a BA(Hons) in Jewellery and Silversmithing and a string of awards including 'Student of the Year'. Since 2000 Maria has established herself as a freelance designer and jeweller, exhibiting her work in her own studio shop and a variety of galleries.
Artist Statement
Maria has an accomplished portfolio of original artworks, ranging from oils to charcoal. The inspiration for her canvases depict her passion for the countryside and personalities of the farm animals within it.